Wuxi city day into electrical appliance Co., Ltd. located in southeast of Jiangsu Province, the Yangtze River delta plain hinterland, the scenic Jiangnan region of rivers and lakes -- Lake, Jiangsu city in Wuxi province. The Shanghai Nanjing high-speed along the east-west, the Beijing Hangzhou Grand Canal runs through the north and the south, the traffic is very convenient.
Products: high and low voltage switchgear, busbar, ground metal trough, cable tray series.
The company always adhere to the principle of quality first, superior resources, using GB/T19002 - ISO9002 "quality system of production, installation and service assurance model", establish and improve the quality system, the whole process of the quality of the products produced, the formation and implementation of the implementation of quality control, the quality of the leading products has been in a leading position. Among them: the busbar high and low voltage switch cabinet, was named the first class, and through the acceptance of international standards; high and low voltage switchgear, busbar and wire surface groove was rated as China's famous brand products; won the bronze award China Agricultural fair.
Wuxi Richeng Cable tray URL: www.rc5888.com E-mail: rc5888@126.com Tel :0510-88660720 / 21/22/23 24-hour service hotline: 13093082899 18921125633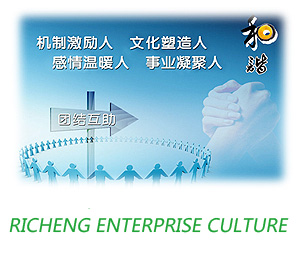 Spirit: Unity, integrity, pragmatic and efficient, pioneering and innovation
Philosophy: To the quality of a brand, service and credibility to management level, efficiency, innovation and development
Purpose: A social need, is our eternal pursuit; user satisfaction, is our greatest happiness; dedication, pioneering, is our only option.
Slogan: With heart blood, to embrace the blue sky, let the blue sky under the earth more green. -- Huang Sheng